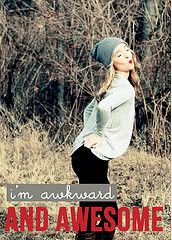 I don't know who of you out there read
Sydney's Blog
but if you don't you should start. She is one spunky lady and so fun to read. She is a fashion blogger but she also talks about life, marriage and being a married college student. I really want to be as stylish as she is. She has a really fun link up party called awkward and awesome Thursday and I am so hooked to reading them. They are hilarious and I can totally relate to so many. Click on the picture above to check it out. This is the first week that I have participated (and I am going to try to make this a semi regular thing) so lets get this show on the road shall we....
AwKwArD:
-Running into Ty's aunt and Uncle while I am still in my mismatched PJs because I am cleaning the house and doing laundry and just hadn't gotten to the getting ready for the day point yet oh and it was noon thirty. oops...awkward.
-When I am at the gym and someone is waiting for the machine/weights/treadmill that I am certainly using....and I am not even close to done. Dude you are totally being awkward just standing there staring at me. I am not giving up my spot... I was here first. Ya hear me? so please please stop staring at me as I make awkward faces and sweat is pouring down my face thank you.
-Ok so when I am minding my own business walking out of the locker room after going to the bathroom ready to get my workout on and having to walk past a naked lady....yes butt naked...to get out. eeek. awkward! Where do I look? I don't want to look but I also don't want to look uncomfortable. Seriously this is a lose lose situation folks. I don't think girls are as used to seeing each other totally butt naked like boys are. For my hubby it is no big deal because he was into the whole sports things and saw it all the time. But for me it is awkward. Really Whitney? how old are you anyway? jeeze
-Grocery shopping with a squealing, adorable might I add, baby and everyone staring at me. Jeeze people! I know he is loud but he is so cute and its Walmart for heavens sake not a library or hospital. Since when is Walmart supposed to be quiet. Hello! Awkward.
-Only washing my hair 2-3 time a week.
-Hearing old people toot. also saying toot on my blog haha
-My love handles.
-Walking into story time at the library late and getting the stare down by all the other moms that managed to get there on time. I know I am a horrible mom for making my child late to story time. Now stop staring and watch your child instead of letting them steal my baby's sippy cup. ok I'm over it.
-Pushing the stroller over towers of snow while the drivers are trying not to stare at me like I am a crazy lady.
-Buying womanly products. This is still so so awkward for me especially when your cashier is a nice little innocent teenage boy. I am so sorry buddy for making you touch those haha.
-Getting my prescription filled and the lady at the counter saying in her loud voice for everyone to hear "Now is this the Prozac that you want filled"...then I whisper yes. awkward, everyone just heard you and the world knows what I am taking now.
-Feeling like a failure because my baby is 10 months and I still look chubby.
-Starting to look into slimming wear...ugh
-Leaving laundry in the dryer for a week. Oops. Failure!
-Chipped toe nails. I need them redone desperately I tell you.
-Maddux doing his bodily functions in public....and Loud might I add. and people looking at me. Hello it was the baby I swear stop looking at me like that.
-Days of our lives. This is also awesome!
-Maddux getting his foot in his poop and then it getting all over me while I am trying to clean it up off him.
AwEsOmE:
-Going on a play date and walk with new friends.
-Having a laughing attack at 2 in the morning with husband even though we really should have been sleeping. I wouldn't change those moments for anything.
-Looking up potentially new to us SUVs on the KSL classifies with Ty and hypothetically saying why we like it or not. Nerdy but fun. KSL classified are ADDICTING people!
- Tax refund! Thank you Maddux. Enough said. haha
-Bunko night is tonight woot!
-The bachelor...Everything about it. Especially the girls tell all and can I just tell you I did not like Michelle or Ashley H and after Monday night I really like and understand them. Still don't like them for Brad but love their personalities. Loving the New Ash. Anyone else? BTW who are ya'll rooting for Chantel or Emily?
-Stealing music from the library. Yes I am one of those people now. I discovered that the library has CDs so I have an evil plan to check them out and download them to my Itunes. You know ya'll want to do the same thing. Give me a break we are poor college students :)
-Tomorrow is Friday and that means game night with some cool new friends :)
-Awesome workouts this week :)- Running 6 miles without stopping and being oh so sore.
-MADDUX
-My silhouette Sandra Dee
-Temple trips with hubby
-Living close to both of our families now!
-My adorable hubby being willing to watch Maddux while I go to the gym
-craft blogs....addictive I tell you
-My clean house and being caught up on laundry.
-Maddux and his new friend Anna holding hands
-My new love for crafting
-People watching....LOVE it!
-Maddux fitting in the dryer hahaha oh my gosh this was hilarious people.
-My St. Patricks day decor. This is my first year decorating for this holiday and it was fun
-Pretty Little Liars....don't judge you'd love it to if you gave it a chance
-Ty reading to Maddux every night before bed
-Jimmer...Nuf said people if you don't know what I am talkin about you are missin out. hola Y
-Maddux giving me kisses
-Getting featured on Lil' Luna's blog today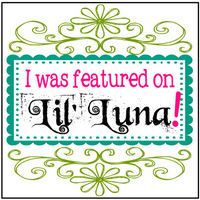 -Ahhhh! I was also featured here today!!! eeek. This is such a cute blog I just found it today and love it and I'm a new follower. Thank you for featuring my project. You made my day :)